Who doesn't love a slice of sweet, juicy watermelon on a hot summer day? Everybody does, but cutting one up usually ends with an epic mess.
Introducing Watermelon Easy Slicer, a faster and clever way to get perfect watermelon slices with less hassle and waste.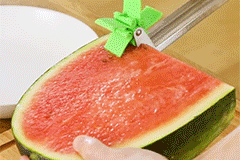 Easy to Use: simply push the slicer into the watermelon and the blade will automatically cut juicy cubes for you.
Premium Material: made of stainless steel and water-resistant
Kid-Friendly: the unique rounded edges and non-sharp blades make it perfectly safe even for kids.
Make perfect and effortless slices, get yours Easy Slicer today!