Remove Nail Polish Pain/Hassle-Free With Nail Polish Remover- A Guaranteed Way To Remove Anything Off Of Your Nails Without Damaging Them
"I will be telling all of my friends about this UV gel polish remover. I love using this thing. Waiting 10 minutes for the polish to fall off is nothing compared to sitting in a crowded, noisy salon and paying a load of money for the same service."
—Kendra T.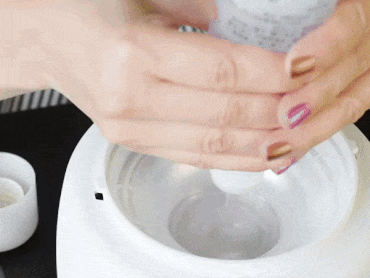 ✓ Removes nail polish, acrylic nails, shellac and more
✓ 5 nails polish on fingers can be cleaned disposable, removing the gel in a short time
✓ The combination of heat and vapor helps to soften the gel nail polish, lift and slide off the nails easily
✓ The combination of heat and vapor helps to soften the gel nail polish, lift and slide off the nails easily
✓ Safe and harmless. This steam-off nail polish remover is portable and will not harm your skin or nails
Tired of chipping away at your nails and all you get is skin damage and a sad ending? Well, you're in luck today...We created a way you can remove nail polish 10 times faster with zero risks of nail damage in the process. Nail Polish Remover works fast, efficiently, and keeps your nails healthy and intact.
ERGONOMIC, PORTABLE, SIMPLE, COMFORTABLE, AND CONVENIENT
Five nail slot you can simply slip your fingers to and remove your nail polish. Making the process twice as fast and much more efficient than just spending forever trying to chip off the paint yourself and just making a huge mess.
Safe and easy to use steaming system that doesn't go past 52 C. Which means the Nail Polish Remover will remove all of the polish off of your nails without damaging your cuticles. 
 Not only it can be used to remove nail polish. You can also remove acrylic (powder or gel), shellac, and much more. Making it easier for you to get off those stubborn gels in the comfort of your own home and not have to hire a professional to do it for you.
Professionals from all over the world cannot recommend Nail Polish Remover enough. What's really amazing about this product is its ability to remove nail polish from your fingers one hand at a time. Saving you time chipping away one by one and getting frustrated by how long it takes. Get yours today so you can have healthier nails.
Benefits
Time & Energy Saver- Saves you time form chipping away one by one. Can complete up to five fingernails at a time. Making it time efficient and less frustrating cleaning your nails
Completely Safe- Penetrates the gel deeply and gets all the gel off without even coming in contact with your nails. Which means you can clean off your nails without worrying about any skin damage.
Removes Various Nail Gels- Not only removes nail polish. It also removes acrylic (gel or powder), shellac, and much more. Making it the perfect all-in-one solution to clean your nails.
Better Nail Health- High enough temperature where removes all of the gel and nail polish without damaging your cuticles. Offering better protection and overall healthier nails.
Specifications:
✓ Max Temp: 52 DegC
✓ Weight: 432g
✓ Size: ( L x W x H ) 16.50 x 16.50 x 10.30 cm / 6.5 x 6.5 x 4.06 inches
Package Includes:
— 1 X Nail Steamer
— 1 X Power Cable
— 2 X Water Bowl
— 4 X Finger Isolated Leather
— 1 X User Manual
If you have any questions at all, please don't hesitate to contact us: [email protected] - we answer all queries within 24 hours.
Why You Should Purchase From Us:
FREE shipping. No surprises or hidden fees.
30 Day Money Back Guarantee
Safe payments via PayPal and Stripe®
Tracking number for every order

 



Real humans on our support help desk!
We use encrypted SSL certificates for 100% security.
NOTE:
Please allow 10 - 15 business days for delivery.
All orders require 1 - 2 days processing time.